---
Thriving Petly Plans practices share their stories and testimonials.
See how Care Animal Hospital increased client spend by 

132%
Care Animal Hospital, located on the west coast of Florida, is a 3.5-doctor mixed-animal practice. Established 27 years ago, Care Animal Hospital experienced a gradual decrease in patient visits every year for 8 consecutive years, despite aggressive promotion and advertising. By the end of 2010, they had only added half the number of new clients they did in 2003. Regular patient visits were also on the decline: 4 – 8% annually from 2004 to 2010.
Care Animal Hospital introduced Petly Plans in February 2011 with full marketing and advertising support as well as extensive staff training. Within the year, the hospital saw an increase in spay-and-neuter procedures, vaccinations, diagnostics, and lab work, and, for the first time since 2003, they saw an increase in patient visits.
Increases after launching IDEXX Petly Plans*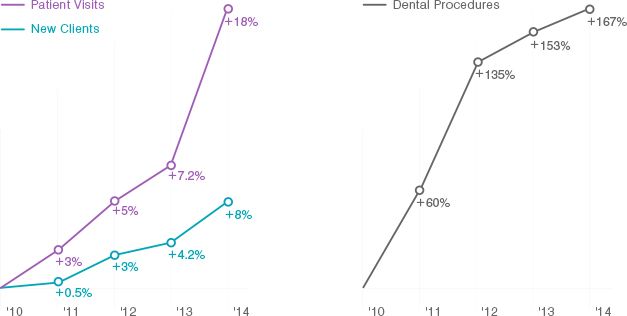 *Compared to the data from 2010
Spending: Preventive Care Plan Members vs. Non-Preventive Care Plan Members
The data below is based on a comparison of plan members versus non-plan members and the amounts they spend on regular examinations, office visits, surgeries, inventory and additional services.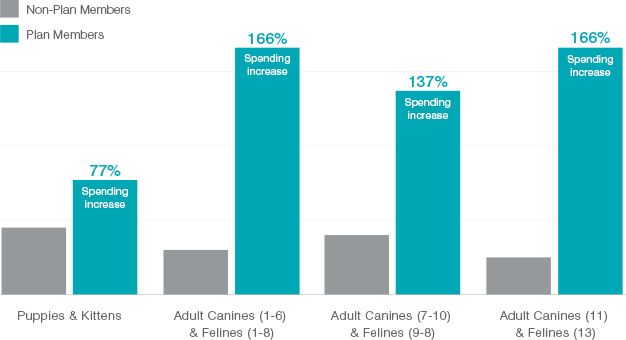 Find out how Freeport Veterinary Hospital increased dental compliance
Freeport Veterinary Hospital: an IDEXX Petly Plans case study
Carolyn Radding, VMD, of Freeport Veterinary Hospital in Freeport, Maine, instituted IDEXX Petly Plans, preventive care plans, over a year ago. We talked with her about her reasons for offering preventive care plans and the affect they've had on her patients, her clients, and her practice. Whether or not you are considering doing the same, Dr. Radding's experience may help you make your decision.
Why offer preventive care plans?
Three factors helped Dr. Radding make her decision to implement preventive care plans at her practice: the economic slump that started in 2008, losing business for basic services such as spays and neuters to a local low-cost spay/neuter clinic, and the chance to differentiate her practice from others in the area.
The 2008 economic slump showed that veterinary practices were no longer immune to variability in the economy," said Radding. "We saw so many people struggling; some had lost jobs, some had their hours cut, so they were skipping routine care for their pets. We were seeing pets only when they were really sick, and it was either going to be a financial burden on the pet owner to help the pet or the illness had progressed so that there was just nothing we could do. We needed to get preventive care back in focus and find ways to make it easier to pay for routine care.
IDEXX Petly Plans
Dr. Radding decided to combat these problems with preventive care plans. She liked that Petly Plans was created within a veterinary practice. She also appreciated that she and her staff wouldn't be responsible for a lot of the time-consuming administration. She had thought about implementing her own wellness plan, but the logistics and operations side of things didn't seem feasible. Because Petly Plans interfaces with her practice information management software, plan administration is simplified. With Petly Plans, she could get pets in sooner and give them a better chance at good health. And she could gain back her spay/neuter patients—along with those client relationships—by incorporating spays and neuters in her puppy and kitten plans.
Why co-pays work
In addition to these benefits, Dr. Radding's preventive care plans include co-pay arrangements, so those pets that just aren't quite themselves can get a checkup at a reduced rate. This encourages pet owners who might be on the fence about bringing a pet in to do so. If the pet is not seriously ill, Dr. Radding can provide the pet owner with the peace of mind of knowing they had their furry family member checked out and all is well. If the pet is sick, it becomes much easier, once the owner is in her office and the animal is in her care, to plan for further diagnostics and treatment.
"We offer unlimited $20 co-pays for scheduled outpatient exams," says Dr. Radding. "With a co-pay, people are more willing to come in because they know it's going to cost them just $20 for the visit. Co-pay visits get pets in the door, so you can find problems earlier. You're not giving away services—if you need to provide medication or further diagnostics, you get your money back."
Promoting the plans
Dr. Radding knew it was important to promote Petly Plans to let pet owners know her hospital was offering them. She put a banner by the road, contacted her local paper, and posted on social media and their clinic website. She and her staff also talked about the plans with every single client. Dr. Radding promotes her plans as a membership, which makes pet owners feel unique and like special members of the practice. Members also get special perks, like free nail trims and discounts on some supplements and prescription diets.
"We talk about Petly Plans a lot with owners of senior pets," she added. "We don't see them enough, and then, for these pets especially, the costs add up."
Plans are fully customized for individual practices. Freeport Veterinary Hospital offers two adult plans, one of which includes dentals, and Dr. Radding says she's definitely seen an increase in compliance for dental cleanings. "We're getting clients to agree to services they might otherwise hesitate on, but because these services are part of the plan, their pet is getting the benefit."
Petly Plans positives
Giving pet owners an easy way to say yes to consistent, high-quality care helps build trust and strong relationships. And with that, clients are more likely to comply with your recommendations, improving patient health and practice revenue.
"We're seeing many of our customers who are on a Petly Plan more often now," said Radding. "And I have people come in because they've heard we offer plans. For the first time, I have a need for two doctors and have the means to support it. The plans have been good for us, for the people and pets that are on the plans, and for our hospital."
Petly Plans has also been good for the staff.
"The entire staff has the same emotional reaction to pets not getting the care they need or people ending up in a bad situation because they waited too long. Petly Plans encourage preventive care, which allows our staff to feel better about the care they're giving," Radding added. "We're offering these plans so people can take better care of their pets. It's better for the morale of the hospital because we're not always the bearers of bad news. Preventive care plans make everyone feel more positive."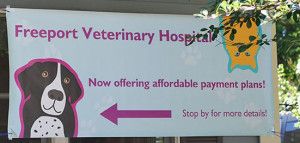 Freeport Veterinary Hospital promotes Petly Plans preventive care plans at the entrance to their practice.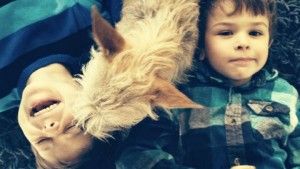 "We have three dogs: Angus, Happy, and Archie. Petly Plans makes it easier for us to give our pets all the care our veterinarian recommends all year long."— Chantal Young, Pet Owner and Client, Freeport Veterinary Hospital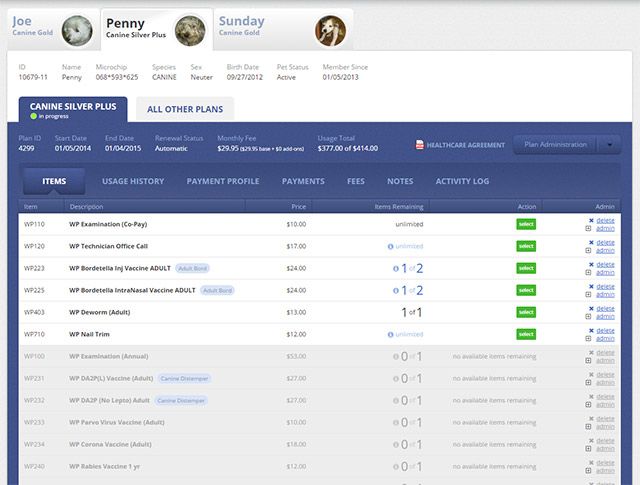 Easily track and monitor preventive care plan items with Petly Plans online software.
Close
Learn more about Petly Plans today!
Petly Plans experts are just a phone call or email away. Learn how Petly Plans is good for your hospital, good for clients and good for pets.
---