---
IDEXX DecisionIQ makes the connections.
You make the call.
Making confident clinical decisions often means researching patient histories, peer-reviewed research, and insights from textbooks, colleagues, and online forums. It's time-consuming but critical work. That's where IDEXX DecisionIQ comes in. It does that legwork. Then it provides you with patient-specific insights and next-step considerations. It's the diagnostic sidekick that never sleeps.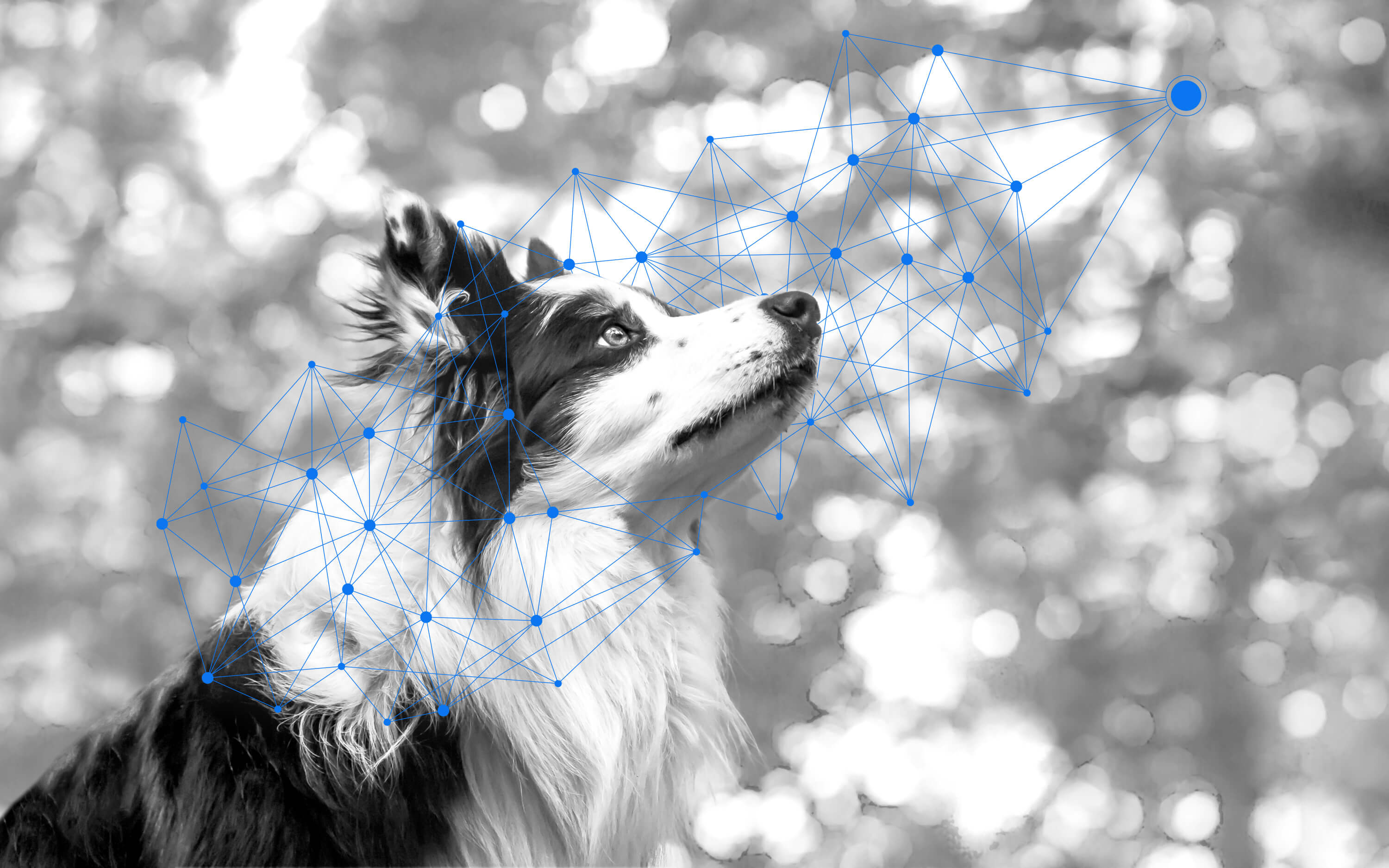 IDEXX DecisionIQ helps you make clinical decisions. Here's how.

Discover insights founded in veterinary knowledge.
IDEXX DecisionIQ is grounded and developed in a collection of veterinary knowledge, diagnostic algorithms, veterinary consensus statements, peer-reviewed publications, and textbooks, plus IDEXX's 40 years of proprietary research.

Spot subtle patterns in routine testing.
IDEXX DecisionIQ leverages artificial intelligence with patient-specific data to identify subtle patterns in routine diagnostic testing, allowing for the detection of current or developing disease.

Get the patient-specific insights you need—when you need them.
Sitting inside VetConnect PLUS, IDEXX DecisionIQ uses proprietary diagnostic technology to bring you insights in real time.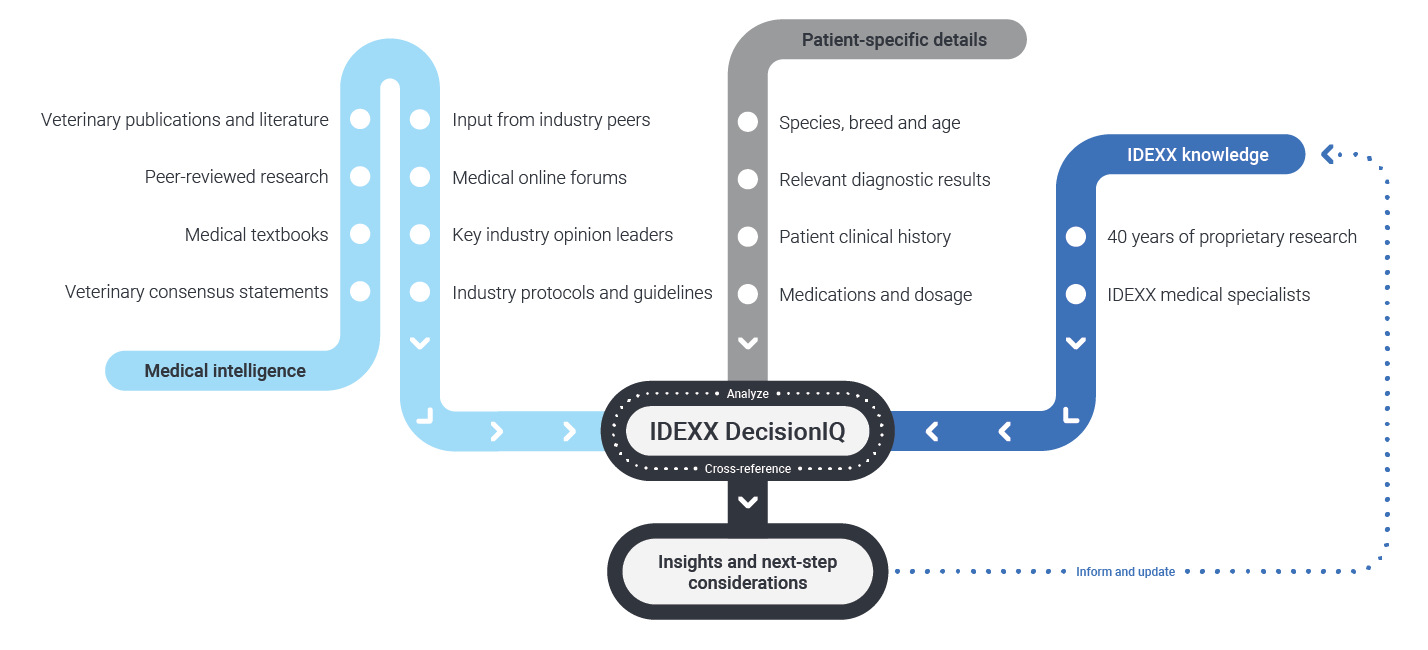 Patient-specific insights and next-step considerations you need.
Toby is a 9-year-old black lab who received a pre-anesthetic panel for a dental procedure. IDEXX DecisionIQ detected patterns in his pre-anesthetic panel consistent with Addison's disease. Toby's DVM added baseline cortisol into his panel, followed up with additional testing to confirm the diagnosis and began treatment. Check out Toby's story here.
"It helped us catch Addison's before Toby went into a crisis!"
-Dr. Megan Trautmiller, DVM
Innovation runs through our blood.
And IDEXX DecisionIQ runs through our rapidly expanding library of tests.
Renal Health
IRIS CKD Staging Guideline Feature
How it works.
IDEXX DecisionIQ utilizes relevant patient-specific details, such as species, relevant analytes, and clinician input, to when a patient with Chronic Kidney Disease (CKD) may be classified by an IRIS CKD stage.

What it does.
IDEXX DecisionIQ provides a seamless experience for clinicians in identifying and classifying patients according to the IRIS CKD staging guidelines.

Why it matters.
Renal diagnostic decisions can be complex. IDEXX DecisionIQ automates the application of the International Renal Interest Society (IRIS)'s established CKD staging guidelines to support diagnosing and treating renal disease in cats and dogs.

Want to learn more?
Discover additional tools and resources for IRIS CKD staging, SDMA, and FGF-23 testing and diagnosis.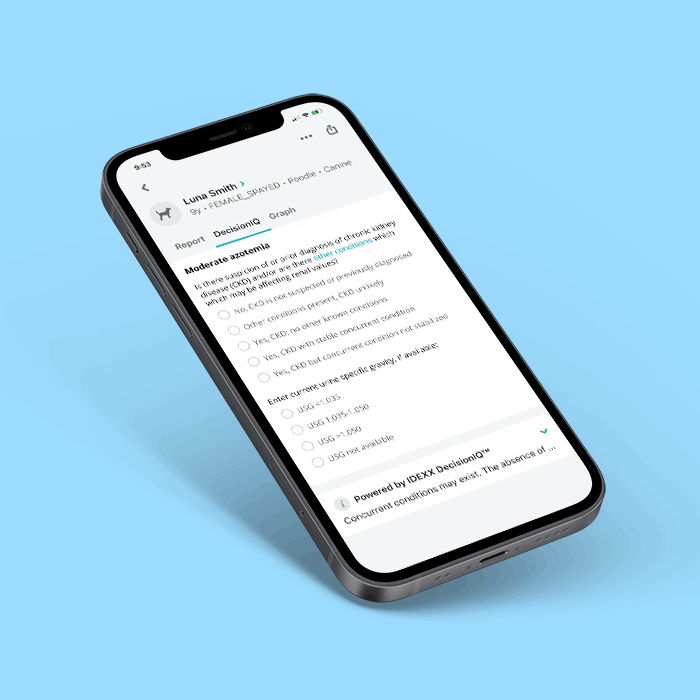 Infectious Disease
4Dx Plus Interpretive Support Feature
How it works
IDEXX DecisionIQ uses relevant patient-specific data and historical results–including but not limited to 4Dx Plus, CBC, Quant C6, and Urinalysis–and clinician input to guide the clinician in determining the most appropriate next steps to consider.

What it does
Provides next-step considerations for patients who have tested positive for heartworm, Ehrlichia, Lyme, and/or Anaplasma using IDEXX's SNAP 4Dx Plus Test and IDEXX Reference Laboratories' 4Dx Plus Test.

Why it matters
Treating patients with positive 4Dx Plus Test results can be especially challenging, particularly in cases where patients are asymptomatic.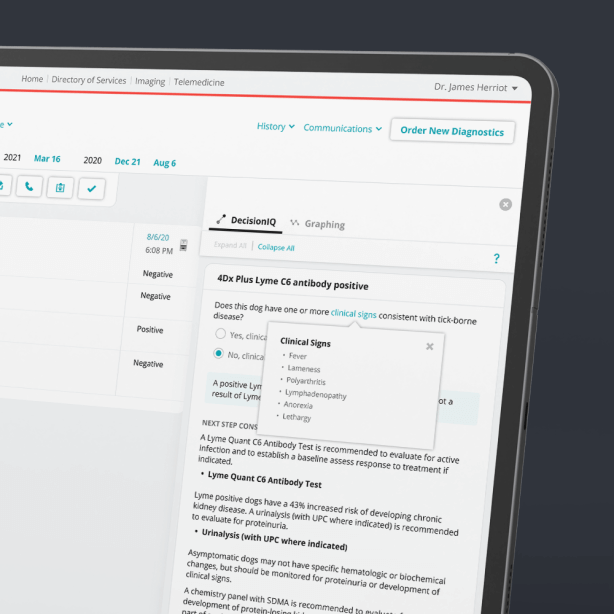 Get involved with IDEXX DecisionIQ
Learn more about IDEXX DecisionIQ.
Order from IDEXX Reference Laboratories
 
Order tests in VetConnect PLUS or your practice management system.
Add on tests to orders within VetConnect PLUS. | Learn how.
Call us to order in-house tests and supplies:
1-888-79-IDEXX
---