---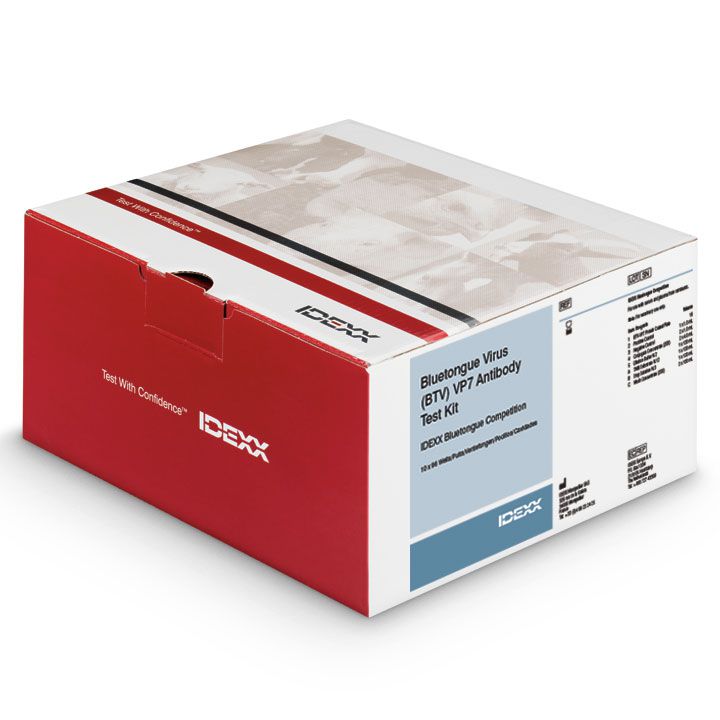 Box sizes and labels will vary.
IDEXX Bluetongue Competition Ab Test
Bluetongue
The IDEXX Bluetongue Competition Ab Test detects antibodies specific to the bluetongue virus (BTV) in individual sheep, goat and cattle sera. It is based on competition between the serum to be tested and a monoclonal antibody, which is coupled to the peroxidase and directed to the N-terminal part of the VP7 protein, a major core protein of the BTV (specific for the BT serogroup).
This method is easy to implement, rapid and reliable, and it is particularly suited to analyzing a large number of samples. As no international standard for serum is available, the detectability has been settled on a French standard (J63) proposed by the CIRAD (Montpellier), which is the international reference laboratory for this disease.
The test should give a positive reaction with dilution at 1:4, positive, doubtful or negative result with dilution at 1:8 and negative result with the dilution at 1:16 of this French standard.
* Availability / Distribution: Outside the U.S. 
 
Test details
---
Part numbers and sizes
P00450-5 (5 plates/strips)
P00450-10 (10 plates/strips)
About Bluetongue
Bluetongue is an infectious viral disease that affects sheep, goats, cattle and wild ruminants, with high mortality rates in sheep. Clinical signs include intense inflammation that first affects the head, with high fever, congestion, edema of the face and tongue and bleeding ulcers of the mucosa. In the most severe cases, the tongue may become cyanosed, hence the name. Extension to the other parts of the body causes serious muscular lesions, with a mortality rate of up to 15%.
The bluetongue virus (BTV) is transmitted by a biting midge of the genus Culicoides. It is not a direct transmission via animals, so the virus is limited to geographical regions in which the midge can survive—from latitude 40° north to latitude 35° south.
Epizootic haemorrhagic disease virus (EHDV), a member of the genus Orbivirus, produces similar symptoms. Differential diagnosis is important to prevent widespread outbreak and economic loss. The ELISA method accurately detects antibodies specific to BTV, without cross-reactivity between the serogroups of BTV and EHDV.
---

* Not all products are available and/or registered in every country.
---