---
IDEXX Digital Cytology/lymphoma case study: Ace 
The new IDEXX Digital Cytology service helps veterinarians reduce uncertainty to make confident decisions faster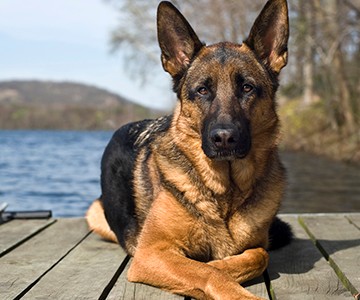 Name: Ace
Age: 5 years
Breed: German shepherd
Gender: Neutered male
Presenting reason and history
Ace presented for a 1-week history of anorexia and lethargy. Ace's owner observed normal drinking and urination, and no other signs, such as coughing, sneezing, vomiting, or diarrhea. Ace had no significant medical problems in the past, and his previous wellness visit showed normal laboratory results.
Physical examination
Ace was quiet, alert, responsive, and hydrated on physical examination. His body condition score (BCS) was 4/9. His weight was down 3 pounds since his last visit 9 months ago. Ace's temperature, pulse, and respiratory rate were normal. Auscultation of his heart and lungs as well as abdominal palpation were normal. Ace's veterinarian noted bilaterally enlarged submandibular and popliteal lymph nodes. The affected lymph nodes were firm, and 3–4 cm in size.
Diagnostic plan
Day 1—Cytological evaluation and biopsy
Diagnostic plan—part 1
Fine-needle aspiration (FNA) of submandibular and popliteal lymph nodes
Slides were stained with Diff-Quik per the protocol that accompanies the IDEXX Digital Cytology instrument. The two best slides were digitally scanned and submitted to IDEXX Reference Laboratories via the IDEXX Digital Cytology instrument for interpretation by a board-certified clinical pathologist.
 
Digital pathology results from FNA
The IDEXX clinical pathologist noted many well-preserved lymphoid cells. There was a predominance of large lymphocytes with a rim of deeply basophilic cytoplasm, large round nuclei, and 1–3 prominent nucleoli per cell. There were a few small- and medium-sized lymphocytes (figure 1). The pathologist's interpretation was large cell lymphoma. While this type of cancer often behaves aggressively, behavior cannot always be predicted with cytology. The IDEXX pathologist recommended obtaining a specimen for histologic examination of the affected lymph nodes for proper grading.
Digital cytology images accompanying the report in VetConnect PLUS made it clear to the veterinarian how the pathologist interpreted the specimen.
 
Diagnostic plan—part 2
Following a discussion with the pet owner, assisted by the report and images on VetConnect PLUS, the veterinarian secured the pet owner's consent for further steps to include the following:
Performing a complete blood count (CBC), a chemistry panel that included the Catalyst SDMA Test and electrolytes, and a complete urinalysis (overall health assessment and preanesthetic testing) to compare to previous wellness visit results
Starting preanesthetic intravenous fluid support
Conducting a surgical biopsy later in the day
Scheduling a referral appointment with an oncology specialist to explore chemotherapy options
 
Laboratory findings (CBC/chemistry panel/urinalysis)
Laboratory diagnostics were performed in house utilizing IDEXX diagnostic analyzers (figure 2), and through VetConnect PLUS, the results were easily compared to previous laboratory diagnostics. Upon review, a slightly low serum phosphorus and slightly elevated ALT were noted. There was no elevation in serum calcium, which is important to consider, as hypercalcemia is a common finding in patients with lymphoma. As a result, Ace's veterinarian felt comfortable proceeding with general anesthesia and biopsy. The procedure included a surgical incisional biopsy of the left popliteal lymph node. Surgery went well with an unremarkable anesthetic recovery. The biopsy was submitted to IDEXX Reference Laboratories for histologic evaluation. Ace was discharged into the owner's care pending biopsy results, with an oncology referral appointment the next day. 
Day 2—Initial treatment
Oncologist's visit
The oncologist was able to see historical laboratory results and the digital cytology report (with images) via collaboration on VetConnect PLUS. Radiographs of the thorax and abdominal ultrasound revealed no abnormalities, with no evidence of enlarged lymph nodes or hepatosplenomegaly. The oncologist and pet owner agreed to begin a chemotherapy protocol to manage Ace's lymphoma.
Day 4—Histological evaluation
Anatomic pathology results from incisional biopsy
The IDEXX board-certified anatomic pathologist determined that, "Based on the size of the neoplastic cells, this is a large cell lymphoma (cells range from intermediate to large in size, but more often large), and based on the cell size and the mitotic activity (an average of 6–7 per single high-power field), this is consistent with an intermediate to high grade lymphoma." (figure 3). To further characterize the type of lymphoma (T-cell versus B-cell), the pathologist recommended immunohistochemistry testing be performed on the specimen, specialized testing that is available at IDEXX Reference Laboratories. Since the lymphoma cell type may affect prognosis and/or treatment in some cases, the pet owner agreed to further testing to discriminate. 
Day 16—Immunohistochemistry
Immunohistochemistry results
Nearly all the neoplastic cells had a diffuse strong nuclear immunoreactivity for a B-cell lymphocyte marker. The morphology, arrangement, cell size, and immunohistochemical findings supported a diagnosis of diffuse, large B-cell lymphoma affecting this lymph node.
Patient reports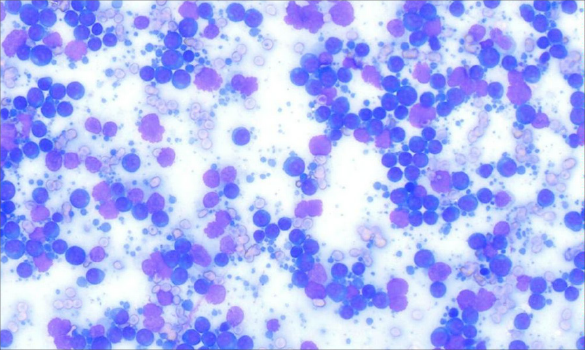 Figure 1. Digital cytology image accompanying the pathologist's report in VetConnect PLUS. The pathologist's interpretation was large cell lymphoma.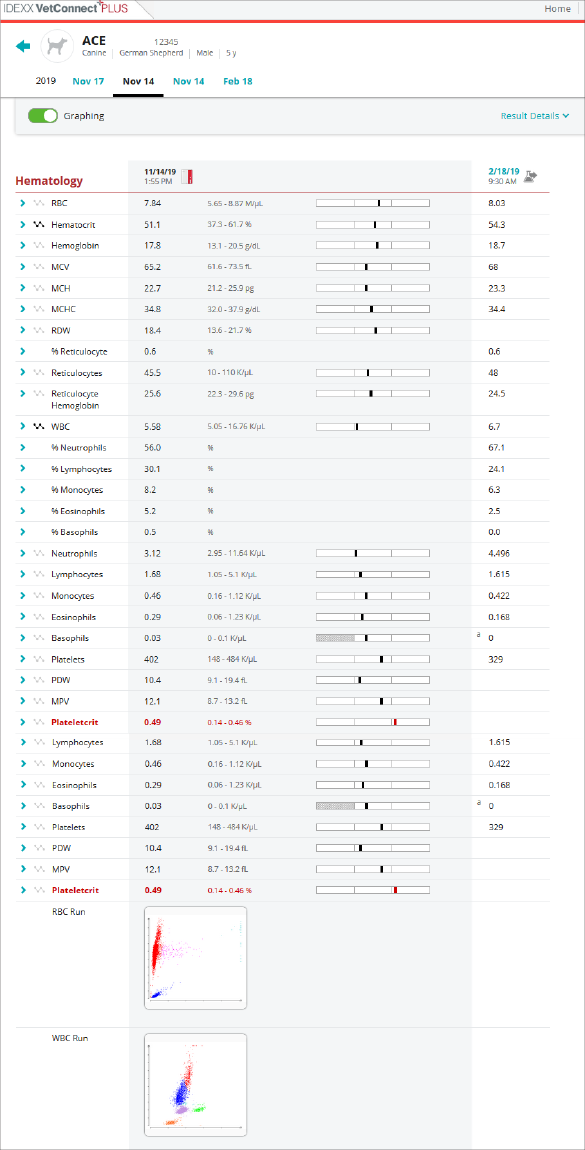 Figure 2. Ace's laboratory results from CBC, chemistry panel with IDEXX SDMA, and complete urinalysis. Viewing in VetConnect PLUS allows easy comparison to a patient's previous diagnostic results.

Figure 3. Histopathology images accompanying the pathologist's report in VetConnect PLUS. The pathologist's interpretation correlated with the previous cytologic diagnosis of large cell lymphoma.
Conclusion
IDEXX Digital Cytology provided the veterinarian the ability to manage the case faster.
Cytological interpretation from the IDEXX pathologist was reported in less than 2 hours, which rapidly informed the veterinarian of a working diagnosis of lymphoma and included recommendations for further testing. The veterinarian utilized the tools and resources via VetConnect PLUS to gain pet-owner approval on next steps.
Because Ace was already in the clinic and laboratory diagnostics could be completed in-house, a biopsy was performed under general anesthesia on the same day and sent to IDEXX Reference Laboratories for histological evaluation.
The veterinarian was able to utilize VetConnect PLUS to share results and refer Ace the same day to an oncologist for evaluation, and treatment of clinical signs was started the following day.
An IDEXX anatomic pathologist was able to interpret the biopsy and recommend further immunohistochemistry testing to further guide Ace's veterinarian and veterinary oncologist on prognosis and treatment options.
All of Ace's testing and information was integrated into VetConnect PLUS to support comprehensive case management.
*Symmetric dimethylarginine.
References
Nabity MB, Lees GE, Boggess M, et al. Symmetric dimethylarginine assay validation, stability, and evaluation as a marker for early detection of chronic kidney disease in dogs. J Vet Intern Med. 2015;29(4):1036–1044.
Hall JA, Yerramilli M, Obare E, Yerramilli M, Jewell DE. Comparison of serum concentrations of symmetric dimethylarginine and creatinine as kidney function biomarkers in cats with chronic kidney disease. J Vet Intern Med. 2014;28(6):1676–1683.
Hall JA, Yerramilli M, Obare E, Yerramilli M, Almes K, Jewell DE. Serum concentrations of symmetric dimethylarginine and creatinine in dogs with naturally occurring chronic kidney disease. J Vet Intern Med. 2016;30(3):794–802.
Hall JA, Yerramilli M, Obare E, Yerramilli M, Yu S, Jewell DE. Comparison of serum concentrations of symmetric dimethylarginine and creatinine as kidney function biomarkers in healthy geriatric cats fed reduced protein foods enriched with fish oil, L-carnitine, and medium-chain triglycerides. Vet J. 2014;202(3):588–596.
Hall JA, Yerramilli M, Obare E, Yerramilli M, Melendez LD, Jewell DE. Relationship between lean body mass and serum renal biomarkers in healthy dogs. J Vet Intern Med. 2015;29(3):808–814.
---