---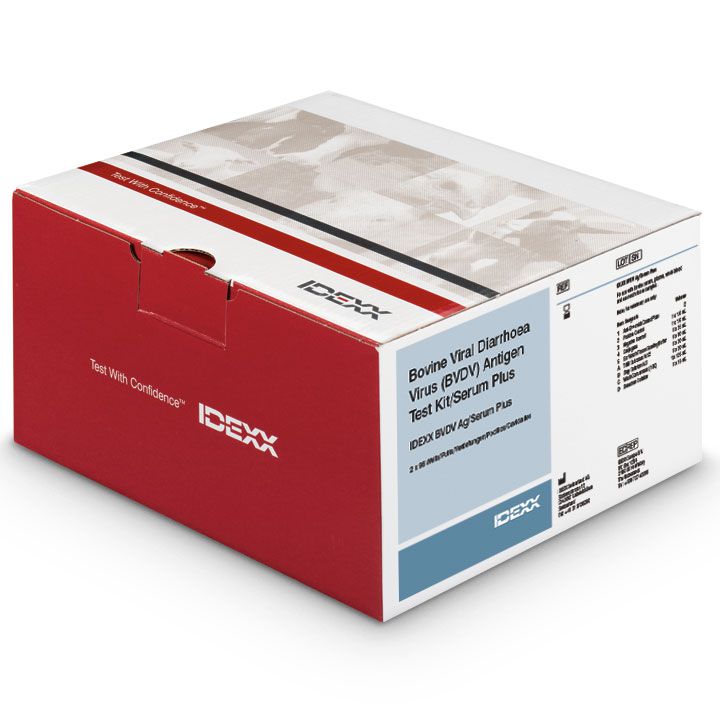 Box sizes and labels will vary.
IDEXX BVDV Ag/Serum Plus Test
Bovine Viral Diarrhea Virus (BVDV)
The IDEXX BVDV Ag/Serum Plus Test is an enzyme-linked immunoassay (ELISA) for the detection of bovine viral diarrhea virus antigen in serum, plasma, whole blood and ear-notch tissue samples.
* Availability / Distribution: Outside the U.S. 
Test details
---
Features
Serum, plasma, whole blood or ear-notch tissue samples

Erns antigen detection

Short and overnight protocols
Part numbers and sizes
99-43830 (5 plates/strips) 
99-43899 (30 plates/solid)
About Bovine Viral Diarrhea Virus (BVDV)
Bovine viral diarrhea virus (BVDV) suppresses a cow's immune system, making the animal susceptible to a host of other infections. That's why BVDV is one of the world's most costly bovine diseases, with losses of $15–$88 per head from reduced herd productivity, health and reproductive efficiency.1
Stopping BVDV requires detecting and removing the infection source: persistently infected (PI) cattle that continually expose other animals to disease.
Because PI cattle often look healthy, a sensitive, specific diagnostic test is essential. Mistakes can be costly: whether it's removing a valuable animal from production or allowing an infected calf to join the herd.
Determining herd status is the first step toward a BVDV-free herd. IDEXX has a complete portfolio of BVDV tests, including antibody- and antigen-detection ELISAs for laboratories and rapid SNAP and point-of-care tests for veterinarians. The IDEXX BVDV PI X2 Test and the rapid IDEXX SNAP BVDV Antigen Test are USDA-licensed.
View veterinarian testimonials on BVDV testing.
---

* Not all products are available and/or registered in every country.

Reference
1.  Data on file at IDEXX Laboratories, Inc., Westbrook, Maine, USA
---