---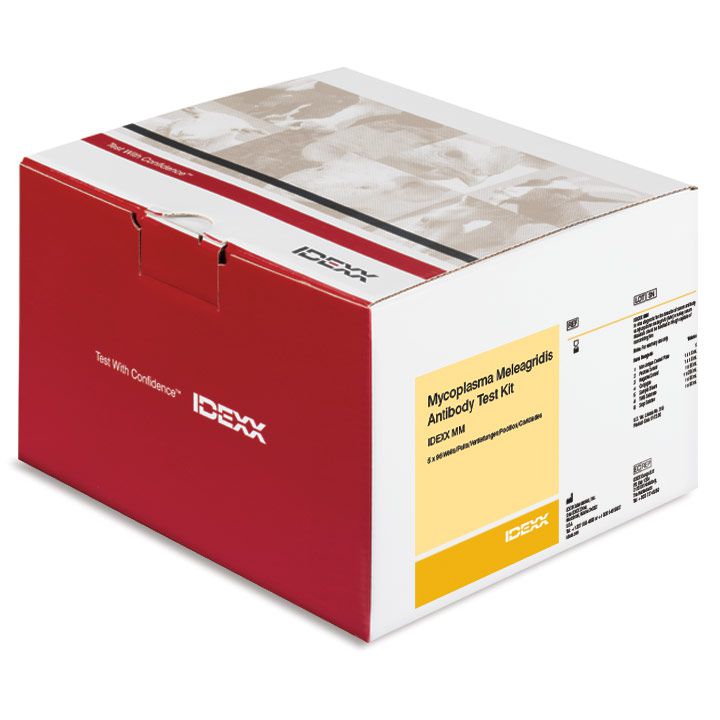 Box sizes and labels will vary.
IDEXX MM Ab Test
Mycoplasmosis
Mycoplasma meleagridis (MM) is the cause of egg-transmitted disease of turkeys in which the primary lesion is an airsacculitis in the progeny. Other manifestations include decreased hatchability, skeletal abnormalities and poor growth performance. The organism is a specific pathogen of turkeys. MM is distributed worldwide, and the incidence of MM-associated airsacculitis is very high (20–65%) in naturally infected cull poults.
* Availability/Distribution: Worldwide
Test details
---
Features
Serum samples
Indirect format
Turkey samples
Part numbers and sizes
99-06229 (5 plates/solid)
Mycoplasmosis
Poultry flocks are susceptible to respiratory infections from a variety of agents, including Mycoplasma spp. The usual types of infection from Mycoplasma spp. are chronic respiratory disease, airsacculitis, sinusitis and synovitis. In many cases, however, the infection may be identified only through serological and culture methods. Monitoring a flock for exposure to Mycoplasma is facilitated by the measurement of antibody to Mycoplasma in serum.
---

* Not all products are available and/or registered in every country.
---