---
IDEXX Cornerstone Software
News and information

This summer we're launching a new website to help you quickly answer your Cornerstone questions. And we asked for your help to name it. The votes are in, and the winner is…The Cornerstone Help Hub. Here's a preview of what you'll find, a list of more great name submissions--and info on how you can be part of a select group to participate in the site's content strategy.
The new Cornerstone Help Hub is designed to provide users like you with easy and quick access to:
• Answers to frequently asked questions
• Tips and tricks to help you get the most out of Cornerstone
• Resources on advanced topics like inventory and chartless best practices
• Access to a library of hardware specifications, quick resource guides, and release notes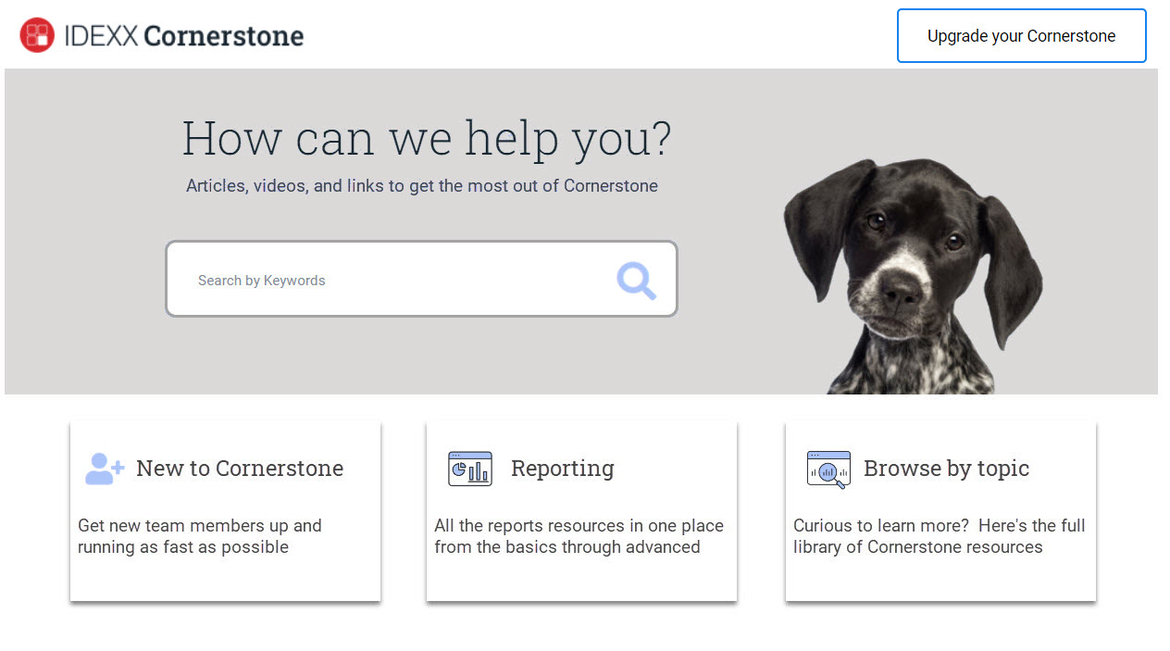 One-stop shop for Cornerstone info
Like its name implies, the HelpHub will be a one-stop shop for info to meet your Cornerstone needs. We asked users for help naming it and were floored by the great—and sometimes hilarious—names you all came up with. Here's just a sampling:
Doggone good advice
Cat-astrophe Help Center
How the help do I do that in Cornerstone?
Cornerstone DIY
Put your paws up
Camp Cornerstone
Cornerstumped
Nobody puts baby in the Cornerstone
So help me Cornerstone
The wisdom of Cornerstone shared
All Around the Cornerstone
Help us make the Hub work for you
We will add new content and resources to the MyCornerstone Help Hub on a regular basis. But we need your help to determine which assets you need most! We're creating a Cornerstone Help Hub Advisory Team, and we need a few select users to spend just an hour or two every other month helping inform our content roadmap. If you'd like to be one of them, click button below to add your name to the list.
---
---