---
IDEXX Cornerstone Software
News and information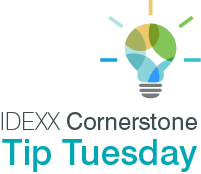 The new multi-select pick list function in Cornerstone 9.3 is an incredible time-saver and super helpful for ensuring that you're accurately tracking and charging for every service and item. In this tip your Cornerstone expert Erin Peters fast-walks you through:
The best reports to use to take advantage of multi-select pick lists, whether you want to see a list of all your pick lists, the contents of each of them, or pinpoint all pick lists that are embedded in groups.
How to create new pick lists, or update or merge existing ones.
Watch it now!
---
---