---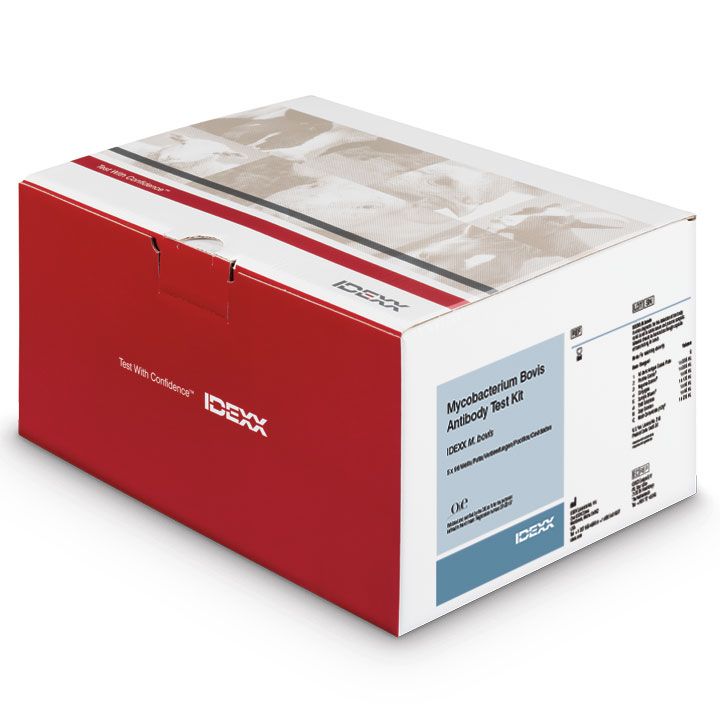 Box sizes and labels will vary.
IDEXX M. bovis Ab Test
Bovine Tuberculosis/Mycobacterium bovis
The IDEXX M. bovis Ab Test is intended for the detection of Mycobacterium bovis (M. bovis) antibody in cattle serum and plasma samples. Adding IDEXX M. bovis Ab test to bTB control programs will increase detection by identifying infections other tests miss. This test is a robust and reproducible tool that offers a fast, 2-hour protocol for objective, quantitative results. IDEXX easy-to-use M. bovis ELISA format requires no specialized training or handling requirements and can be repeated as often as necessary, allowing more rapid bTB control. 



Validated and certified by the OIE as fit for the purposes defined in the kit insert provided with this kit. Registration number 20120107
* Availability / Distribution: Outside the U.S. and Canada
Test details
---
Features
Serum or plasma samples
Indirect format
Results in 2 hours
Part numbers and sizes
99-29853 (5 plates/strips)
References:
1. de la Rua-Domenech R, Goodchild AT, Vordermeier HM, Hewinson RG, Christiansen KH, Clifton-Hadley RS. Ante mortem diagnosis of tuberculosis in cattle: a review of the tuberculin tests, γ-interferon assay and other ancillary diagnostic techniques. Res Vet Sci. 2006;81(2):190–210.
* Not all products are available and/or registered in every country.
---