---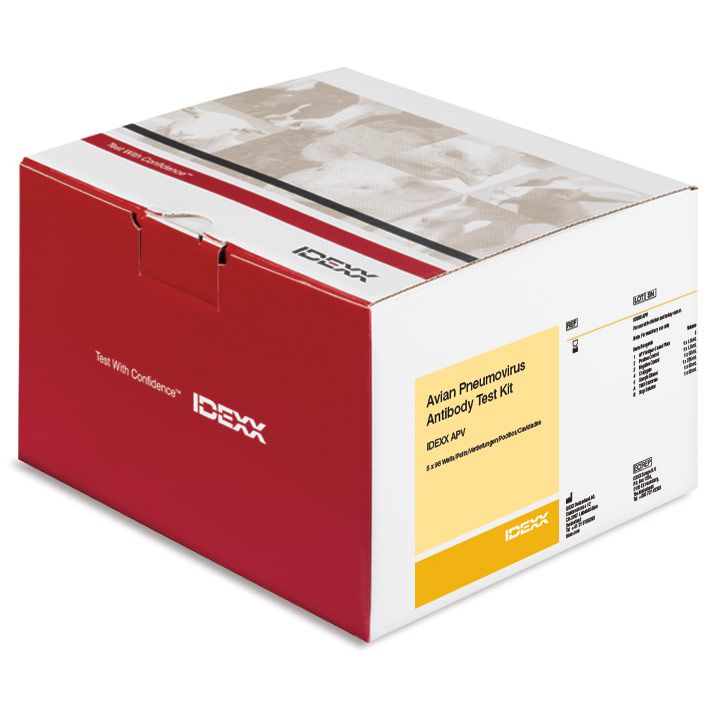 Box sizes and labels will vary.
IDEXX APV Ab Test
Avian Pneumovirus (APV)
The IDEXX APV Ab Test is an enzyme-linked immunosorbent assay (ELISA) designed to detect antibody to avian pneumovirus (APV) in chicken serum.
* Availability / Distribution: Outside the U.S. 
Test details
---
Features
Detects A, B and/or C avian pneumovirus serotypes
Chicken and turkey serum
Indirect format
Part numbers and sizes
99-44300 (5 plates/solid)
About Avian Pneumovirus (APV)
Avian pneumovirus (APV), previously known as turkey rhinotracheitis virus, causes acute, highly contagious upper respiratory tract diseases in turkeys and chickens. Typical signs of the disease include sneezing, nasal discharge, conjunctivitis, swollen sinuses and a marked drop in egg production. The virus can also infect chickens without exhibiting any clinical signs. The IDEXX APV Ab Test is designed to detect APVspecific antibodies in serum samples.
All testing solutions
IDEXX APV Ab Test
---

* Not all products are available and/or registered in every country.
---