---
IDEXX Cornerstone Software
News and information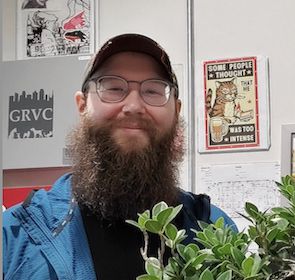 Film fan with a soft spot for Fellini and David Lynch. Bonsai whisperer. Amateur chef who slices radishes so thin you can see through them. Alex DeRuiter, 35, is a man of many talents, and that includes using Cornerstone in some novel ways.
What's your role at Grand Rapids Vet Clinic?
I'm a wearer of many hats: clinic administrator, IT administrator, and maintenance guy.
What was your path to vet med?
My dad was the equivalent of the crazy cat lady minus the crazy, and I grew up with seven to 12 cats at any given time. In 2010 I was working a full-time job and going to school for pre-vet. Student loans buried that dream, but I realized I really enjoy working with animals, so I called to volunteer here in 2010, and they said, "Yeah, come on in," and it just snowballed.
If I asked one of your clients what makes Grand Rapids Vet Clinic unique what would they say?
We've coined the phrase, "our clinic is the isle of misfit toys," and we have many "alternative" technicians and staff. We all seem to be odd in our own right. Nobody is overly professional, but at the same time, we're still a very professional vet clinic of course. Sounds like a very welcoming work family. Tell us about your family at home. My wife and I just had our one year anniversary last month. We have two kids and three cats. Our newest cat, Nigel, was the proposal cat. I've never been one to get a special breed, but he's a Scottish kilt [a Scottish fold munchkin]. We also have a chunky black cat named Cookie, and a Siamese cat, Kitty.
What's your go-to icebreaker question?
"What's your favorite music, movie or book?"

So what's your favorite movie?
Probably 8½, by Federico Fellini. I really like the dreamy movies. The next contender is Mulholland Drive by David Lynch.
If you didn't have to work today, what would you be doing?
Cooking. Probably Indian food. I love making curries. We recently started making our own paneer [an Indian cheese] and our own naan bread, and that's been a fun endeavor.
What's something about you that surprises people?
That I've been growing bonsai for 15 years or so.
How did you get into bonsai—or how it did it get into you?
My first bonsai was a gift from a friend. I killed that one and a few that followed, but eventually greened my thumb. Once I gained some experience and started making friends in the field (no pun intended), I started importing established trees from Japan. After a critter wiped out some of my more expensive trees, I realized the practicality of growing from seed and using other methods of cultivation. My collection has dwindled a bit compared to a decade ago, but I've got about 30 trees in various stages of training, plus various propagation projections underway.
What other superpowers do you have?
My wife says I can slice things very, very thin. She said I can make friends with just about anyone. And that I'm good at making up song lyrics to fit whatever current situation we're in. Usually during traffic.
You're clearly a hands-on learner. Is that how you get to know new features in Cornerstone?
Reading release notes definitely helps me know which features to look for and test out. But I also love on-the-fly, as-the-needs-arise learning.
What's an aspect of Cornerstone that you've loved learning how to use?
I love creating correspondence documents, they're so versatile! I just started using QR codes in those and uploading images of QR codes for send-home documentation.
Tell us about a challenge you were facing at work, where Cornerstone saved your bacon.
One time people were quarreling over staff productivity. I called Cornerstone support and they pointed me to this one equine report that had exactly what I needed. Beyond that, there have been so many end-of-day fiascos relieved by end-of-period reporting. I feel like I'm Sherlock Holmes when I do that.
Final question: If you were face to face with Cornerstone product owner Jennifer Rumery what would you ask her?
"What are your top five movies?"*
*1. Princess Bride, 2. Monty Python and the Holy Grail, 3. Beetlejuice, 4. The Goonies, 5. Grandma's Boy.
---
---