---
Deeper Clinical Insights from IDEXX Preventive Care Offerings Help Veterinarians Detect Issues Sooner So Pets Can Live Their Best Lives
IDEXX Reference Laboratories in the U.S. expands preventive care solution for earlier cancer detection in dogs
WESTBROOK, Maine, January 12, 2023—IDEXX Laboratories, Inc. (NASDAQ: IDXX), a global leader in pet healthcare innovation, today announced a cancer screening test for adult and senior dogs, further expanding the most comprehensive portfolio of products and services available to support veterinarians with preventive care in the U.S. In addition, IDEXX announced an extensive study of over 220,000 patients shows that IDEXX preventive care testing reveals clinically relevant findings* across adult life stages for up to 1 in 5 dogs and 1 in 3 cats, emphasizing the benefits of comprehensive annual wellness testing.1
"Just as pet owners want the best care for their pets, veterinarians want the deepest diagnostic insights on their patients for confident decision-making," said Jay Mazelsky, IDEXX President and Chief Executive Officer. "IDEXX is proud to add a canine cancer screening test to our advanced menu of preventive care solutions to help veterinary professionals detect life-threatening diseases earlier and ultimately improve patient outcomes." 
IDEXX's expanded preventive care solution now includes:
IDEXX Nu.Q® Canine Cancer Screen, a more accessible way to screen adult and senior dogs, or younger dogs of at-risk breeds, for a disease that impacts nearly 6 million yearly in the U.S.2  This expands the comprehensive cancer diagnostics test and service menu at IDEXX Reference Laboratories, which helps veterinarians identify cancer, understand personalized genetic markers, and determine diagnostic protocols for therapy management and monitoring.
IDEXX Preventive Care Simple Start, a new program designed for the capacity-constrained practice, complete with staff training, custom diagnostics profile development, and ready-to-use client communications, all supported by a dedicated team to make implementation seamless.
Fecal Dx® antigen testing, recently expanded to include flea tapeworm antigen testing, detects up to five times more of the most common intestinal parasites than fecal flotation alone.3  The IDEXX 4Dx® Plus Test now includes new markers that offer earlier detection of antibodies for Anaplasma acute infections, detecting up to 30% more positives with increased sensitivity.4  Together, these tests provide veterinarians with comprehensive parasite screening to confidently assess the risks for their patients.
When diagnostic testing reveals abnormal findings, IDEXX DecisionIQ™ helps veterinarians make informed clinical decisions with confidence by applying intelligent insights to patient-specific data and delivering next-step considerations alongside results in VetConnect® PLUS. IDEXX DecisionIQ™ currently supports a number of conditions, including vector-borne disease infections and chronic kidney disease. This month, IDEXX will begin the release of several new features that indicate a pet's risk for endocrine conditions and support veterinarians with diagnosis, treatment, and monitoring.
Veterinary professionals attending the 2023 Veterinary Meeting & Expo (VMX) on January 14–18, 2023, are invited to visit the IDEXX booth (#2033), or one of its educational sessions, to learn more. Those not attending VMX can learn more about IDEXX Preventive Care solutions online at idexx.com/preventivecare.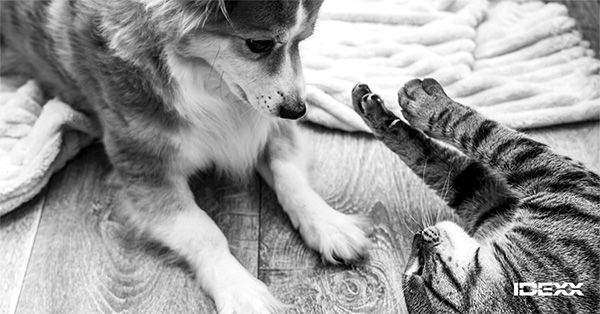 ---
About IDEXX
IDEXX is a global leader in pet healthcare innovation. Our diagnostic and software products and services create clarity in the complex, constantly evolving world of veterinary medicine. We support longer, fuller lives for pets by delivering insights and solutions that help the veterinary community around the world make confident decisions—to advance medical care, improve efficiency, and build thriving practices. Our innovations also help ensure the safety of milk and water across the world and maintain the health and well-being of people and livestock. IDEXX Laboratories, Inc. is a member of the S&P 500® Index. Headquartered in Maine, IDEXX employs more than 10,000 people and offers solutions and products to customers in more than 175 countries. For more information about IDEXX, visit: idexx.com. For media inquiries, please get in touch at media@idexx.com.
Note Regarding Forward-Looking Statements
This news release contains or may contain forward-looking statements within the meaning of the Private Securities Litigation Reform Act of 1995. Forward-looking statements can be identified by the use of words such as "expects," "may," "anticipates," "intends," "would," "will," "plans," "believes," "estimates," "should," "project," and similar words and expressions. These forward-looking statements are intended to provide our current expectation or forecasts of future events; are based on current estimates, projections, beliefs, and assumptions; and are not guarantees of future performance. Actual events or results may differ materially from those described in the forward-looking statements. These statements are subject to risks, uncertainties, assumptions, and other important factors. Readers are cautioned not to put undue reliance on such forward-looking statements because actual results may vary materially from those expressed or implied. The reports filed by IDEXX pursuant to United States securities laws contain discussions of some of these risks and uncertainties. IDEXX assumes no obligation to, and expressly disclaims any obligation to, update or revise any forward-looking statements, whether as a result of new information, future events, or otherwise. Readers are advised to review IDEXX's filings with the United States Securities and Exchange Commission (which are available from the SEC's EDGAR database at sec.gov and via IDEXX's website at idexx.com).
Contact
Media Relations
media@idexx.com
Investor Relations
investorrelations@idexx.com
---
*Clinically relevant abnormalities are test results that indicate impact to organ systems or physiologic processes.
Nu.Q is a registered trademark of VolitionRx Limited and its subsidiaries. All other ®/TM marks are owned by IDEXX Laboratories, Inc. or its affiliates in the United States and/or other countries.
References:
Data based on analyses of 167,593 canine wellness profiles (a complete chemistry profile [including IDEXX SDMA® Test and electrolytes], IDEXX CBC® with reticulocyte parameters, urinalysis) and 54,211 feline wellness profiles (a complete chemistry profile [including the IDEXX SDMA Test and electrolytes], IDEXX CBC with reticulocyte parameters, urinalysis, total T4 [≥ 7 years of age]) associated with wellness visits; testing performed at IDEXX Reference Laboratories in North America on January 1, 2021–June 1, 2022. Data on file at IDEXX Laboratories, Inc. Westbrook, Maine USA: Study #014_Preventive-Care-Findings_220908090729.
What is comparative oncology? National Cancer Institute Center for Cancer Research. Accessed January 5, 2023. ccr.cancer.gov/Comparative-Oncology-Program/pet-owners/what-is-comp-onc
Elsemore D, Beall M, Bezold T, Geng J, Hanna R. Detection of Dipylidium caninum coproantigen in experimental and natural infections [AAVP Abstract 23]. Paper presented at: 67th Annual Meeting of American Association of Veterinary Parasitologists; June 26, 2022; Snowbird, UT. Accessed January 5, 2023. www.aavp.org/documents/2022/07/aavp-2022-annual-meeting-proceedings.pdf
Beall MJ, Mainville CA, Arguello-Marin A, et al. An improved point-of-care ELISA for the diagnosis of anaplasmosis and ehrlichiosis during the acute phase of tick-borne infections in dogs. Top Companion Anim Med. 2022;51:100735. doi:10.1016/j.tcam.2022.100735
---