---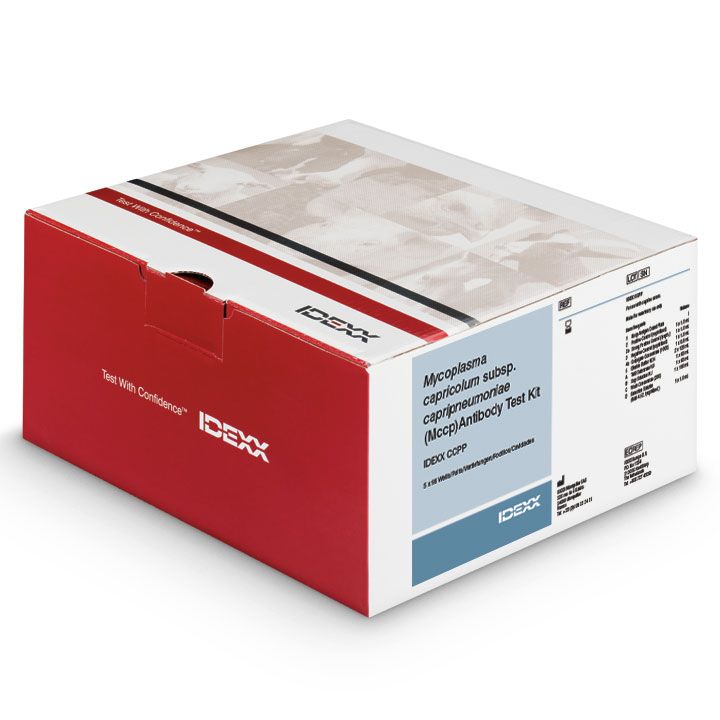 Box sizes and labels will vary.
IDEXX CCPP Ab Test
Contagious caprine pleuropneumonia (CCPP)
The IDEXX CCPP Ab Test is a competitive enzyme-linked immunosorbent assay (cELISA) based on the monoclonal antibody Mab 4.52. Because of its high specificity, the IDEXX CCPP Ab Test is effective in areas where no vaccination is used. The test can also detect significant levels of antibodies in vaccinated animals (as vaccine lots conform to OIE prescriptions) The IDEXX CCPP Ab Test was developed by the CIRAD-EMVT (the Food and Agriculture Organization's world reference center for CCPP) and can be used for official CCPP control. The test has been validated through a collaborative project (Ethiopia, Kenya).1
* Availability / Distribution: Outside the U.S. 
Test details
---
Features
Serum samples
Blocking format
400 tests
Part numbers and sizes
99-56231 (5 plates/solid)
About Contagious caprine pleuropneumonia (CCPP)
Contagious caprine pleuropneumonia, or CCPP, is a serious respiratory disease that threatens a significant number of goat populations around the world. Clinical disease has been reported in 38 countries with the highest incidence found in African and Asian nations. Additionally, CCPP's high rates of morbidity (90–100%) and mortality (60–80%) have had wide-ranging negative effects on livestock economics and trade restrictions in countries throughout Africa.
CCPP primarily infects goats and wildlife, including gerenuk, Laristan mouflon and wild goats; sheep are known asymptomatic carriers of the disease. In its acute form, CCPP may result in anorexia and respiratory symptoms (coughing, nasal discharge, dyspnea, polypnea) with associated lesions, and may include the presence of exudative pleurisy and pneumonia. Some animals develop subacute forms with few detectable symptoms.
The IDEXX CCPP Ab Test can be used for:
Surveillance testing for herd health management: in disease-free areas, test the entire herd to ensure the absence of disease.
Monitoring of vaccination efficacy: to confirm the effect of the vaccination.
Testing prior to exportation: testing is mandatory for animal export; CCPP is a notifiable disease (List B) through the OIE.
All testing solutions
IDEXX CCPP Ab Test
---
* Not all products are available and/or registered in every country.

References
1. Peyraud A, Poumarat F, Tardy F, et al. An international collaborative study to determine the prevalence of contagious caprine pleuropneumonia by monoclonal antibody-based cELISA. BMC Vet Res. 2014;10:48.
 
---